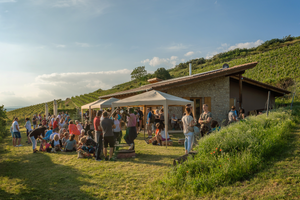 ">
"The Nahe is the insider's secret among German winegrowing regions" — Stuart Pigott, wine journalist
">
Jancis Robinson bewertet unsere neuen Lagenweine mit herausragenden Bewertungen
17,5++ Punkte - 2022 DELLCHEN Riesling
17,5+ Punkte - 2020 ÉTAPE XXV Riesling
17,5 + Punkte - 2022 FELSENBERG Riesling
17+ Punkte - 2022 KLAMM Riesling
17+ Punkte - 2022 IM HONIGBERG Riesling
17+ Punkte - 2022 PARADIES Riesling
17+ Punkte - 2022 VON DEN ERSTEN LAGEN Riesling
tolle Bewertungen von James suckling des 22er Jahrgangs
95 Punkte - 2020 ÉTAPE XXV Riesling
93 Punkte - 2022 DELLCHEN Riesling
93 Punkte - 2022 FELSENBERG Riesling
92 Punkte - 2022 PARADIES Riesling
92 Punkte - 2022 KIRSCHHECK Riesling
Markus del Monego - Master of Wine
98 Punkte - 2020 ÉTAPE Riesling
97 Punkte - 2022 PARADIES Riesling
97 Punkte - 2022 IM HONIGBERG Riesling
97 Punkte - 2022 DELLCHEN Riesling
Decanter - world wine awards 2023
Bei den Decanter World Wine Awards 2023 konnten wir mit herausragenden Bewertungen punkten. Darauf sind wir sehr stolz.
97 Punkte "BEST IN SHOW" - 2021 PARADIES Riesling
97 Punkte - 2021 PARADIES Riesling Eiswein
97 Punkte - 2021 DELLCHEN Riesling
95 Punkte - 2021 KIRSCHHECK Riesling
BILD Weinkolumne
Wir danken dem weinaffinen Redakteur Martin S. Lambeck für diesen großartigen Artikel! Korrell Weine in der BILD-Weinkolumne - "Wenn süffige Tropfen Politik machen" - 27.05.2023
"Korrell ist einer, der in die erste Reihe vorrückt..."
"Das ist stahlig-gemeißelte Nahe vom Feinsten!"
"...die typische Nahe-Mineralität..."
Frankfurter Allgemeine Zeitung
We thank the wine-loving editor Martin S. Lambeck for this great article! Korrell wines in the BILD wine column - "When tasty drops make politics" - 05/27/2023
We are also happy about the great article in the FAZ by the wine and eloquent editor Jakob Strobel y Serra! "The Loreley from Bosenberg" - 04/13/2023
foreign office
We are proud that Korrell wines are part of the diplomatic assortment of the German Foreign Office.
Markus del Monego - Master of Wine
98.5 points - 2019 ÉTAPE Riesling
96 points - 2021 PARADISE Riesling
96 points - 2021 FELSENBERG Riesling
Steinmauer Burgundercuvée 2021 in Lufthansa's First Class
Having been recommended and chosen by germanys Lufthansa, our Etsate Winery has literally been flying around the world since October 2018 - currently in the First Class with our Steinmauer 2021.
97 POINTS PLATINUM MEDAL 2019 PARADIES RIESLING BEERENAUSLESE
We're very proud to have earned such recognition with our first submission for a Decanter Award. "Very clear, youthful, floral fruit aroma with citrus notes. Complex and sweet, with a crisp, accentuated acidity. Nuanced and complex."
TOP SCORES FOR THE 2020 VINTAGE
Famed wine critic James Suckling honored our 2021s with top scores. It is a tremendous affirmation and incentive to continue our uncompromising pursuit of top quality. 
95 points - 2021 KLAMM Riesling
94 points - 2021 PARADIES Riesling
94 points - 2021 DELLCHEN Riesling
94 points - 2021 STEINMAUER Burgundercuvée
TOP BEWERTUNGEN DES 2020ER JAHRGANGS
The renowned wine critic Robert Parker gives our wines excellent points. We are very proud of this.
92 points - 2020 PARADISE Riesling
94+ points - 2020 PARADISE Riesling Beerenauslese
93+ points - 2020 PARADISE Riesling Eiswein
92 points - 2020 KIRSCHHECK Riesling
93 points - 2020 FELSENBERG Riesling
2ND PLACE IN OVERALL RANKINGS AT THE VINUM RIESLING CHAMPION 2021
Our collection was a favorite of the expert jury featuring sommeliers, journalists, and wine retailers. They ultimately assigned us second place in the overall rankings. In the "Federleicht" category, our Riesling Kabinett earned a top three finish, while the Niederhäuser Klamm earned top marks among single-site wines.
500 BEST GERMAN WINE ESTATES 2022
Martin and Britta Korrell are among the beacons on the Nahe. They refuse to rest on their laurels, even after twice winning the FEINSCHMECKER Riesling cup.. This year's presentation was radiant — dynamic, balanced, distinctive."
">
Korrell is proud to work very closely with restaurants throughout Germany. Over 400 restaurant directors and sommeliers trust our quality and the classic elegance of our wines. We look to meet them in person whenever possible, as both Martin Korrell and his team appreciate the friendly collaboration. The following offers a selection of the establishments in which Korrell wines can be found.