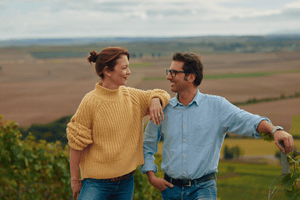 ">
"Martin Korrell surprises industry watchers wines that have long belonged to the finest from his growing region" — Gault Millau 2021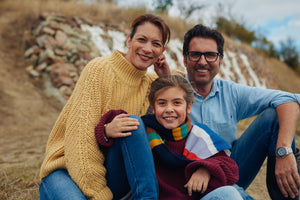 ">
Martin and Britta Korrell took over the family estate in 2003, pouring all their love, ambition, and dedication into making it a top wine destination on the Nahe. Together the trained agricultural engineer and the schoolteacher make a fine team. He is deliberate, introverted, and steadfast — she's lively and eloquent. The four children, one boy and three girls, are just as different as mama and papa. It remains to be seen who will walk in their footsteps.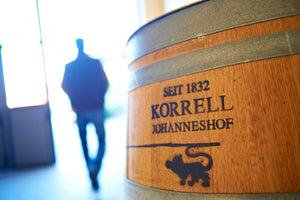 ">
IN THE NAME OF THE LION
Our ancestors first settled in Spain, where they were awarded the family crest with the lion in 1483. The estate has existed at its current location in Bosenheim since 1832, although it has grown over the years and added renowned sites. This era was characterized by an unshakable bond between tradition and innovation.
Martin's career began with a plunge into the cold water. In 1995, he returned from an internship in Australia to find his father in a wheelchair following a fall. With the wine harvest just around the corner, the 19 year old made the leap overnight into self-sufficient cellarmaster — with tremendous success. The estate is a favorite of all major wine guides, where the wines are praised as "dynamic, harmonious, and distinctive." Martin Korrell is now counted as a "benchmark among the top estates in the region."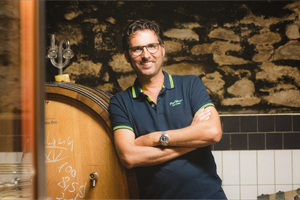 ">
To talk of our estate's wines is talk of Martin Korrell as a person as well. He is a vintner to his core, calm and grounded — with tremendous steadfastness and a love for detail. Rather than claiming the spotlight for himself, he prefers to allow the authenticity and quality of his wines to speak on their own.
We concentrate on what really matters, with an unwavering focus on Riesling. In its boundless variability, this noble grape variety reflects the Nahe as a winegrowing region like no other. And with high scores in both national and international reviews, the estate's Rieslings surely count among the finest anywhere in Germany.
OUR PASSION
Winegrowing is more than just a job. It's a calling. It demands a deep relationship with nature, an understanding of climate and vines, a dose of ambition, and plenty of consistency. This seems to be a common gene in the Korrell family, which has pursued agriculture and winemaking for over 500 years.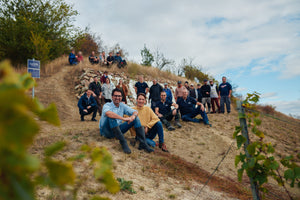 ">
With the growth of our holdings and the ambition to continue improving our quality, the Korrell team has grown constantly. Old hands and young interns sit at one table. One is tasked with ensuring that the best-possible product makes it into the bottle, even if that means getting up at 3 am during summer because organic viticulture knows no 'standard' working times. The other springs to action the moment the carton is sealed, readying the wines on their journey from Sylt to the Tegernsee, from New York to Tokyo — wherever people of good taste seek a fine pour. What matters most, though: everyone is pulling in the same direction, our strength is in our unity!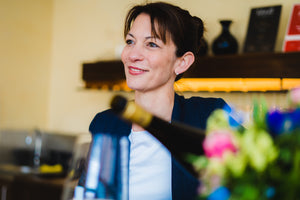 ">
vinotheque & wine tastings
Individually arranged wine tastings from 10 to 30 persons are available at any time during opening hours, with prior reservation. An expert consultant will guide your group through the flights. Experience has shown that tastings run approx. 1.5 – 2 hours. We offer the following options: "Classic" wine tasting — €15 (€19 for groups of less than 10) You'll taste 6 of our most popular entry-level & estate wines. We'll provide a selection of bread and butter as well as mineral water. "Premium" tasting - for 25€ (29€ for groups of less than 10). You'll taste 8 wines from our estate-level & high-end portfolio. We'll provide a selection of bread and butter as well as mineral water. Any individual purchasing €200 or more of wine will receive a discount for the price of the tasting. For evening events and overnight options, we're happy to recommend one of our local regional restaurants and hotels, just ask!
BOOK A WINE TASTING?
We look forward to hearing from you!
opening hours tasting room
Mo-Tu & Th-Fr, 10:00 am - 12:30 pm & 1:30 - 5:00 pm
Sa 10:00 am - 3:00 pm
Closed Wednesdays, Sundays & holidays