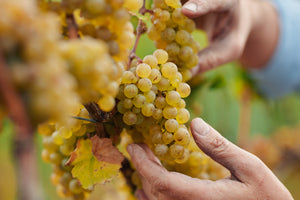 ">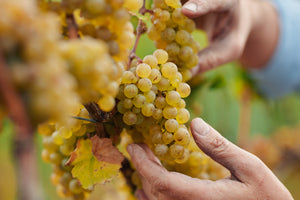 first week
On September 7th, 2022 we were able to harvest our Pinot Noir from the PARADIES vineyard.
Healthy, fully ripe grapes could be harvested in the best weather. Arriving at the winery, the individual grapes are separated from the skeleton and left on the mash for some time so that the aromas and tannins can develop.
Our Pinot Noir PARADIES is only sold after 5 years.
second week
On September 12th, 2022 we were able to harvest our Sauvignon Blanc.
Once again the weather was great during the harvest and the light rain a few days before did the grapes really good.
The must is already in the tanks, bubbling and fermenting. Even the juice is very aromatic and fruity. We look forward to the 2022 vintage.
third week
In the week of 09/19/22 we harvested our "Real Types".
The temperature drop of the last few days is slowing down the vegetation. It's quite cold and foggy in the morning.
Our Pinot Gris and Pinot Blanc are not only aged individually for our estate wines, but also blended together with our Chardonnay to create our Burgundy cuvée STEINMAUER.
fourth week
The 4th harvest week started on September 26, 2022 with a trip through our Riesling sites. Martin and Denis checked the status of the grapes.
At the same time, the remaining grapes for our Chardonnay and Pinot Gris were harvested again.
We are confident that next week we will finally be able to take off with the top class, the Rieslings.
fifth week
Harvest week 5 began on October 3rd, 2022 with the pre-harvesting of the first Rieslings.
Here the hands are always our most important instrument. Soon it's done, everything is harvested by hand and comes home with good quality - only the top class is pending. Because the single vineyard Rieslings are still hanging on the stick. We are patient and wait, because perfect maturity is a prerequisite for great wines.