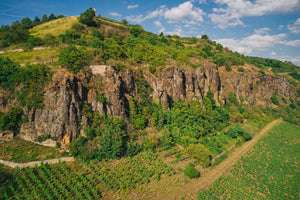 ">
DELLCHEN is directly located next to our KIRSCHHECK. The name comes from the small mountain hollows, called "Dellchen", which are between rocks of volcanic origin. The exactly south facing area is terraced with dry-stone walls and is therefore an ideal heat store. Our parcel has 0.32 ha. The DELLCHEN wines are characterized by an exotic fruitiness, supported by a mineral structure, fine but also very complex.
geological data
AUSRICHTUNG: S
HÖHE: 140-200 M
BODEN: GRAUER SCHIEFER MIT PORPHYRAUFLAGE
REBSORTEN: RIESLING
Dellchen Riesling
The 2021 single-vineyard Riesling from the Dellchen presents itself with an typical exotic fruitiness of pineapple, apricot and candied zest, with fine floral notes. Very elegant on the palate with a persistent character, this wine is characterized by clarity, finesse and an excellent length.