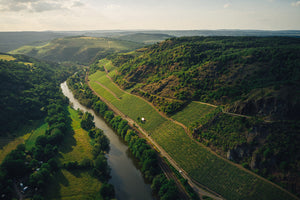 ">
The FELSENBERG is located at one of the narrowest parts of the Nahe region, which is lined with rocks, giving this spectacular location ist name. Due to the dark color and the high proportion of boulders, the soil can be easily heated. Our area is 0.35 ha. The FELSENBERG wines are juicy and often with a breathtaking nose of tropical herbs. The concentrated, stony minerality and the acidity often make them appear smoother than they actually are. They are bursting with energy and vitality, ending in a very long, crystal-clear finish.
geological data
AUSRICHTUNG: S - SW
HÖHE: 130-200 M
BODEN: MELAPHYR UND VULKANISCHER PORPHYR
REBSORTEN: RIESLING
Felsenberg Riesling
Pale yellow with green reflections. Noble character with clear minerality and herbal spice in the background. Well structured with clear acidity, fine, ripe fruit and elegant minerality, excellent length.