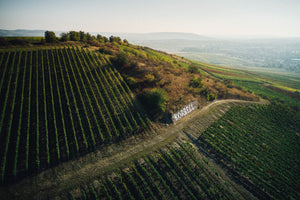 ">
IM HONIGBERG is at a height of 205 - 220 meters in the upper exposed section of our PARADIES. The climate is cooler and windier, the ground is a bit barren with shell limestone slabs. This rich essence of PARADIES comes from 30-year-old vines rooted deep in the shell limestone. The area is only 0.3 ha. IM HONIGBERG presents itself opulently with fine aromas of herbal spices and exotic fruit aromas. A great wine with exceptional depth and length.
geological data
AUSRICHTUNG: SW
HÖHE: 205 - 220 M
BODEN: MUSCHELKALK
REBSORTEN: RIESLING
IM HONIGBERG RIESLING
The first vintage of IM HONIGBERG has a strongly, bright yellow colour. In addition to fine herbal and exotic aromas it has a fresh acidity with a sweet fruit and a juicy character. A hint of vanilla creates a wonderful tension.